How To Throw A Romantic Anniversary Celebration in Novus Giri, Puncak
Some people might say that the key to a lasting relationship is about compromise, communication, and compassion. While all those might be true, we believe that every couple should not forget to celebrate their love for one another.
Anniversaries are important milestones., it's a time when we remind our loved ones how much they are treasured and a moment where couples can self-reflect while honoring one another.
It's not just a bouquet of flowers and a candlelit dinner for anniversaries. What could be more romantic than getting cast away in a mountainous resort? There's something about celebrating an anniversary in a luxurious resort that just makes the occasion all the more special. Whether you're marking a milestone or simply commemorating another year of happiness together, enjoying some quality time in a beautiful setting is sure to add an extra touch of romance to your celebration.
We want to invite you to experience an extraordinary time here in our resort. Nestled in the beautiful mountains of West Java, Novus Giri is an idyllic spot for every couple seeking to reignite their love. Imagine waking up to extraordinary views every day, indulging in well-made meals, and enjoying a rejuvenating couple's massage during your stay. Here's some inspiration for every lovebird out there.
Couple's massage
Experience utter bliss as our trained therapist realigns your balance through a deep-tissue massage that combines the use of herbal essential oils and invigorating massage strokes. Opt for a couple spa sessions and conclude your relaxing moment with a luxurious bath together.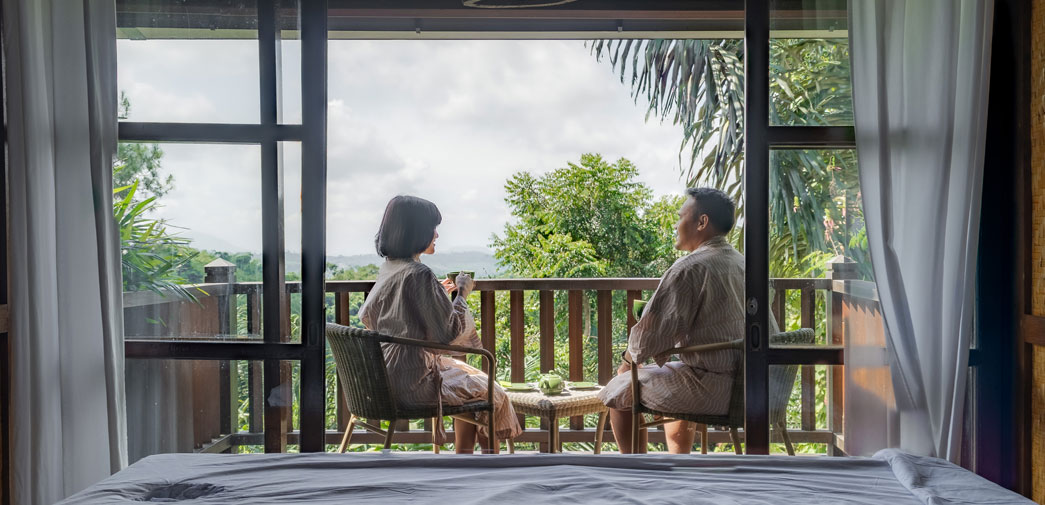 Walk the scenic route
Take a nice stroll on a beautiful lake behind the Cisarua tea plantation, breathe in the fresh air, and enjoy the tranquil atmosphere as you whisper sweet nothings to each other. So put your best foot forward and look forward to spending quality time together.
*Talaga Saat Tour includes a complimentary snack box and transportation. Tours are available every Monday and Thursday, so do make a reservation ahead of time to ensure we can accommodate every request.
Take a romantic soak in the private jacuzzi
Treat your loved ones to a luxe staycation at our suite that comes with a private outdoor patio and jacuzzi–perfect for soaking under the stars while sipping on some bubbles. A romantic getaway to Puncak is not complete without this!
If you're looking for a breathtaking and romantic setting to celebrate your anniversary, look no further than Novus Giri. Our esteemed team of experts is dedicated to providing an unforgettable time for every couple who visits our resort. We guarantee that you'll love the natural beauty of our surroundings and the attentive service of our staff. So come and let us spoil you with memories to last a lifetime!
*Enjoy the best rate for your rooms, exclusive benefits, and in-house perks when you become a member of Novus Privilege – a loyalty program exclusively made for our esteemed guests.
PREVIOUS ARTICLE
How To Live Your Life to The Fullest
How To Live Your Life to The Fullest
Do you feel like you're constantly on the go and don't have time to enjoy life? If so, it's time to start making changes so you can live life to the fullest. Today, we at Novus Giri are going to share a few ways you can fully savor each day.
read more