A Mindful Vacation for Your Mind, Body and Soul at Novus Giri
Modern life can be hectic and stressful as our to-do list gets increasingly more demanding. Taking time for yourself every now and then will help you stay grounded and ensure that your own needs are met.
In this world of constant flux, we need to check in with ourselves before we reach the burnout point.
Step away from the hustle and bustle of modern life in a tranquil forest hideaway– Novus Giri– where the air is cool and the landscape, sublime. Today, we invite you to immerse yourself in mindful activities you can find here in Puncak that will nourish your mind, body, and soul.
Mindful journaling
Journaling is an effective way of dealing with and straightening out complicated emotions and thoughts. Expressive journaling can improve mental health and physical wellbeing and reduce stress levels. Every corner of Novus Giri is a source of inspiration and we hope that you'll be able to find the time and space to gracefully pen out your thoughts.
We're going to share some journal prompts that might inspire you to get started:

How fulfilled do I feel?
How am I learning and growing?
When was the moment I felt grounded?
How can I recreate the feeling this week?
What am I grateful for today?

Being in sync with the water
Water heals the body and balances the mind. Take a dip and enjoy the seclusion of Novus Giri's heated plunge pool while you savor the aroma of the forest. Our pool suite offers guests the window to escape and be at one with themselves. All in-suite pools are heated for the comfort of every guest; relax and enjoy the water with the surrounding greeneries as your company.
*Kindly enquire about the availability of the pool suites at Novus Giri. We highly encourage reservations to be made in advance due to the high demand for the suite.
Retreat into the farm
With open farms and a view unobstructed by skyscrapers and high-rise buildings, a trip to the nearby Gede-Pangrango farm promises a soul-soothing experience. Converse with local farmers, connect with nature as you take a restorative walk around the compound, and maybe learn a thing or two about growing a vegetable garden.
*Kindly enquire in advance to request this farm tour experience.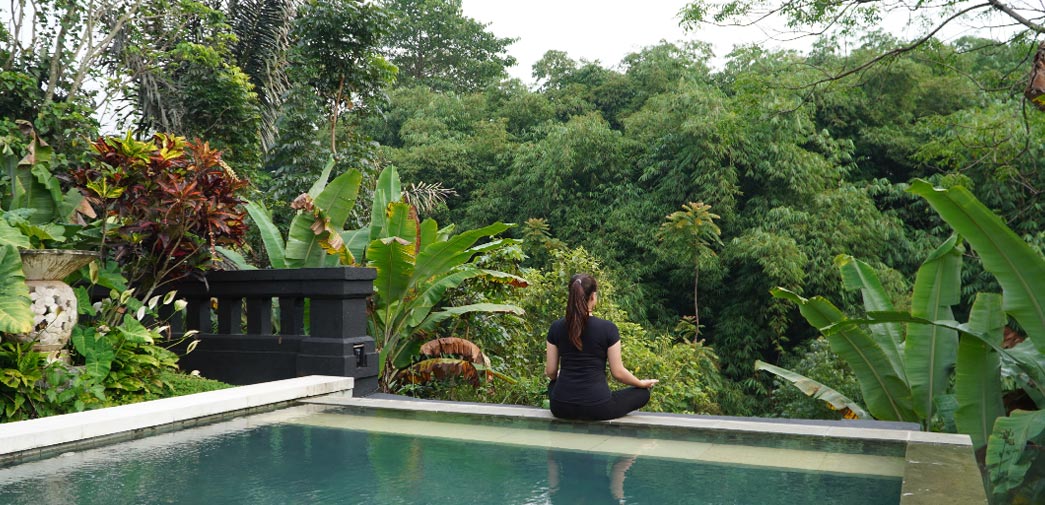 Unplug and meditate
Novus Giri is the place to practice your flow and deepen your meditation – a haven for those looking for a total relaxation getaway. Step away from your hectic schedule, reconnect with your heart and dedicate time for your practice amidst the lush greenery and quiet surroundings. After which, you can revel in the beauty of nature over a cup of tea and coffee provided in every room.
Nestled among acres of the serene forest landscape, Novus Giri offers an environment made for relaxation and restoration. You can return to the daily grind feeling refreshed and rejuvenated. Our team is passionate about helping you find the escape you seek. Book your room to experience tranquility at its finest.
PREVIOUS ARTICLE
Starting 2022 on The Right Foot with a Staycation in Novus Giri
Starting 2022 on The Right Foot with a Staycation in Novus Giri
If you're looking to relax and rejuvenate after the new year, consider a staycation at Novus Giri. Our elegant resort offers stunning mountain views and plenty of activities to help you refresh and recharge. Whether you're looking for some peace and quiet or want to explore what Puncak has to offer, we are here to serve you. Contact us today to book your stay!
read more