Time For Two to Rekindle Your Romance at Novus Giri
We all need time to nourish our romance. Rich biodiversity, crisp fresh air, and an indulgent spa experience make Novus Giri a highly sought-after couples' getaway destination for Jakartans looking for respite from the hustle and bustle of city life.
Plan a stay in one of Giri's suites, explore nature's hidden wonder and find time to reconnect. A couple's retreat will give you the opportunity to spend quality time with a significant other without any distractions.
Here are 5 reasons why Novus Giri is the destination for couples:
Suites with a view of lush surroundings
Nestled among acres of the serene forest landscape, Novus Giri offers an environment made for relaxation and restoration. Spend your romantic time quietly soaking in the heated private pool, ideal for couples seeking a romantic retreat. The silence and intimacy that Novus Giri has to offer will give you the opportunity for reflection, self-growth, and relaxation - surrounded by nature's beauty.
*Kindly enquire for suites with a private pool; our team is passionate about helping you find the escape you seek.
De-stress, relax, and renew your spirit with couple's yoga
Dedicate a time to practice yoga together as you nourish yourself and your significant other in a peaceful and reflective environment. Known for its healing power, yoga is beneficial for mind and body connection, and for couples, the positive effect extends far beyond the physical. Take your mind off work, be present and soak in nature's gift as you stretch, focus, and breathe.
* A gentle reminder for you to take along your favorite yoga mat and comfortable clothes for this experience.
Luxurious pampering at Daiva Spa
Awaken your senses with a world-class spa treatment at Novus Jiva's Daiva Spa. Blending modern and traditional massage techniques alongside the use of indigenous herbs to invigorate your weary body, all our therapists are well-versed in their art. When you're here, make a time to experience Daiva's Signature Balinese Couple massage that uses acupressure and restorative essential oil to stimulate the lymphatic system and loosen blood flow and qi. This is one of the most recommended treatments at our spa.
*Due to the high demand, we strongly encourage guests to book this experience in advance. Kindly reach out to our team to make your reservation when you're staying with us.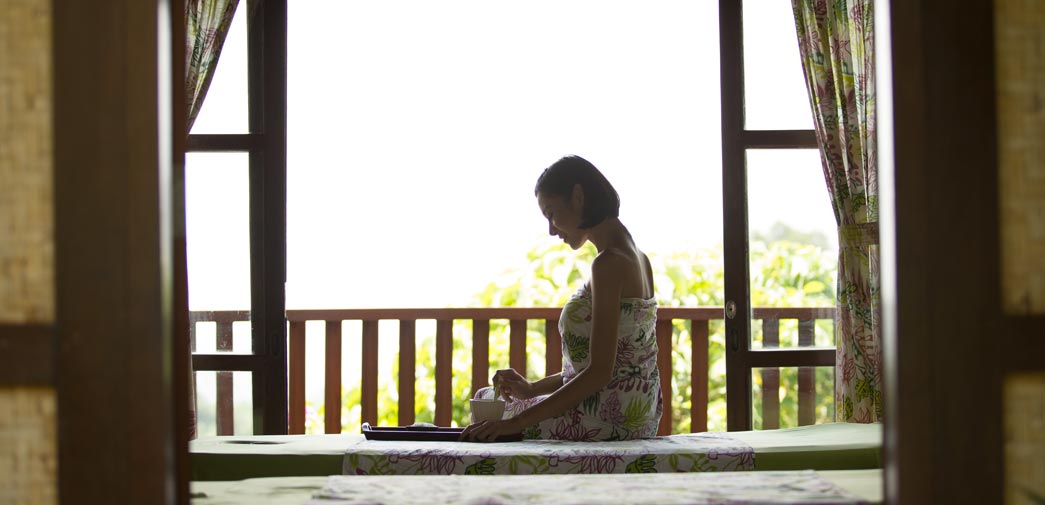 Charming picnic breakfast at the Botanical Garden
Elevate your couple's retreat experience with hearty picnic breakfast for two in the acclaimed Cibodas Botanical Garden in Puncak. Tuck into the delightful American-style spread that uses fresh, local produce while gazing at the stunning view of the garden and lake. This is an experience you will cherish for years to come.
*Transportation to and from our resort, and entrance tickets are included.Kindly seek assistance from our staff, if you'd like to book them.
Take a mindful and relaxing stroll around the Saat Lake
Puncak is known for its fresh produce, dairy farm, and last but not least, its tea plantations. We invite you to experience our bespoke program, Talaga Saat Tour, where you'll be taken to discover the hidden lake tucked behind the Cisarua tea plantations. Revel in the magnificence of the view, and learn more about the different tea cultivations that are iconic to Puncak. Take a romantic stroll along the picturesque lake - long walks can serve as a bonding experience and strengthen relationships.
*Kindly be informed that this program in Novus Giri may be subject to change due to the weather conditions of the day. Light snacks, transportation, and entrance tickets are included in the program.
If you are seeking to experience a romantic getaway to reconnect with your loved one, Novus Giri is the perfect destination. With nature's beauty all around, ample opportunity for reflection, and luxurious suites to recuperate in, Novus Giri offers everything you need for an unforgettable couples retreat. Book your room today and let us help you create memories that will last a lifetime.
*Enjoy the best rate for your rooms, exclusive benefits, and in-house perks when you become a member of Novus Privilege – a loyalty program exclusively made for our esteemed guests.
PREVIOUS ARTICLE
Romantic Forest Escapade in Novus Giri
Romantic Forest Escapade in Novus Giri
Looking for an idyllic and romantic setting to spend Valentine's Day? Forget overcrowded destinations and consider a staycation instead. Just two hours outside of Jakarta, you'll find a beautiful forest escape that's perfect for couples at Novus Giri, Puncak. We have curated a few experiences just for Valentine.
read more