Why Novus Jiva is The Ideal Hotel For Your Next Corporate Getaway
We all deserve to take a break from our daily routine and work retreats offer an opportunity for companies to celebrate small wins as well as ways to bond with their employers. A corporate retreat is not just about work but also an opportunity for colleagues to spend time with one another, improve communications and foster stronger teamwork. Given that most of us have been working from home for the past two years, there's no better time than now to plan a company get-together!
It's important to combine the right mix of business, fun activities, and free time when you're organizing a corporate retreat. Today we'll be sharing with you just how you can do all that in Novus Jiva Resort, Anyer.
Full-fledged meeting rooms
Our resort is equipped with 7 meeting rooms that can accommodate small to large groups of people- the largest can hold up to 250 seated audiences! You can have the flexibility to arrange meetings, training, conferences, private gatherings, and other corporate activities. All meeting rooms are equipped with the latest equipment to ensure you can conduct your meetings efficiently. Our team of highly trained staff is here to assist you to make your corporate retreat a success.
One resort, countless possibilities
Employers can indulge themselves at the three F&B outlets available in the resort. From feasting on decadent Nusantara dishes at Serai restaurant, tucking into comforting snacks at Sarasa Lounge to having a refreshing mocktail at the Upper Circle Bar while witnessing the majestic sunset of Anyer. Talking shop aside, your team can chill and relax at the games room, hit the waves at Barefoot Beach, or treat themselves top-to-toe at Daiva Spa. The possibilities are endless!
Team activities under the sun
All work and no play is no fun! As much as work is a priority, everyone could use a reset after spending hours in the conference room. Take your employees outside and plan an outdoor activity or games to give your people a chance to get to know each other offline. There are plenty of outdoor areas within Novus Jiva that can be used for hosting team-building activities or workshops in nature. Talk to our staff if you don't know where to start⁠—we've hosted many memorable companies and large corporations' getaways. Let us help you with yours!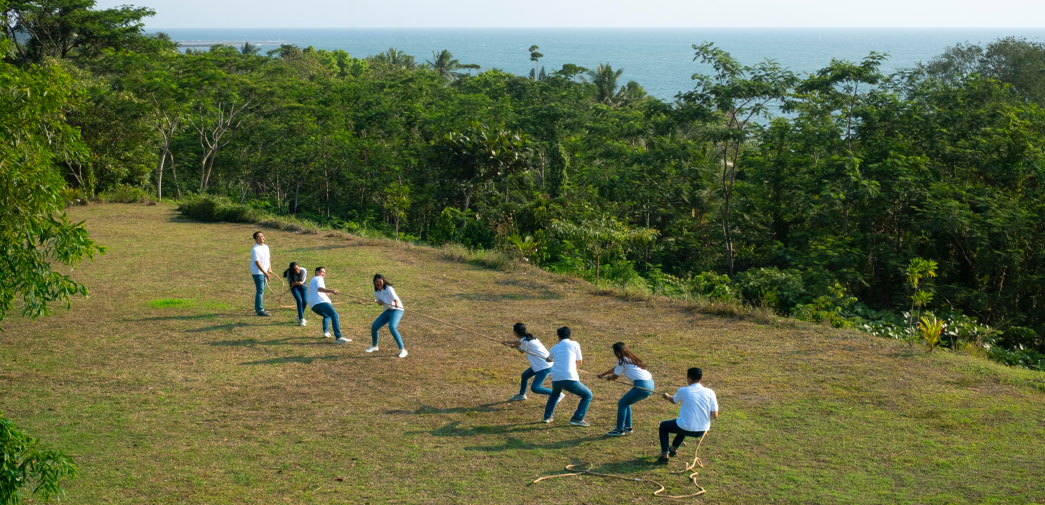 So, if you're in the market for a company retreat, look no further than Novus Jiva, Anyer! We've got everything you need for an unforgettable company event. Our amazing suites and offerings will make your next event unforgettable—and we're here to help you get started with everything from start to finish so that it goes off without one tiny hitch in sight! And, if you still need help getting things started, don't hesitate to reach out. Our team will be happy to assist with all the details. In the meantime, we hope you take some time to browse our selection of offerings and amenities.
Kindly download our corporate retreat brochure here to find out more!
PREVIOUS ARTICLE
It's Time To Revive Your Inner Jiva.
It's Time To Revive Your Inner Jiva.
Do you feel like you need a vacation after your vacation? It's not just you – research shows that time spent at the beach can be really good for your health! From boosting your mood to improving your overall well-being, here are three ways a beach vacation is good for you. So pack your bags and head to the nearest seaside town – you'll be feeling better in no time.
read more