Plan Your Ideal Destination Wedding in Novus Jiva, Anyer
Planning a destination wedding can be a daunting task, but when you've found the perfect location, it will come together. If you're looking for a romantic and beautiful setting, consider having your beach wedding in Novus Jiva, Anyer. With its dreamy surroundings, Anyer provides the perfect backdrop for your big day. Plus, there are complete wedding amenities, suites, and villas available to accommodate your guests, who will definitely appreciate the beauty of the Western Java coastline. So, if you're dreaming of a beach wedding paradise, look no further than Novus Jiva.
Today we'll be sharing why Jiva is the ideal wedding venue for you to say "I do"!
Holy matrimony at the Seashell Chapel
Built above a manmade pond, Novus Jiva's iconic Seashell chapel is a resplendent fixture against Anyer's coastline. Made for holding intimate weddings, Jiva's chapel boasts a unique architectural style featuring a seashell-shaped roof and all-around glass walls. The Chapel makes for an exotic setting especially when it's decorated with beautiful foraged foliage and blooms. Make your dream fairytale wedding a reality when you hold your holy matrimony at this special venue.
Exchanging vows at Barefoot beach
There is no one-size-fits-all wedding; take your planning up a notch by exchanging your vows at the Barefoot beach of Novus Jiva. It's a slipper-off kind of situation when it comes to a beach wedding celebration. Dance with your favorite people to the beat of the music, feel the sea breeze in your hair, cling to your glasses to celebrate the beautiful union, and let our staff take care of your needs for the day.
Post-wedding pampering session at Daiva spa
Every bride and groom deserves a top-to-toe pampering session post-nuptial. Allow our experienced masseuse at Daiva Spa to relax all your stress knots and aching muscles and rejuvenate both your mind and body. Enjoy the therapeutic time before concluding it with a soothing hot ginger tea to restore your body completely.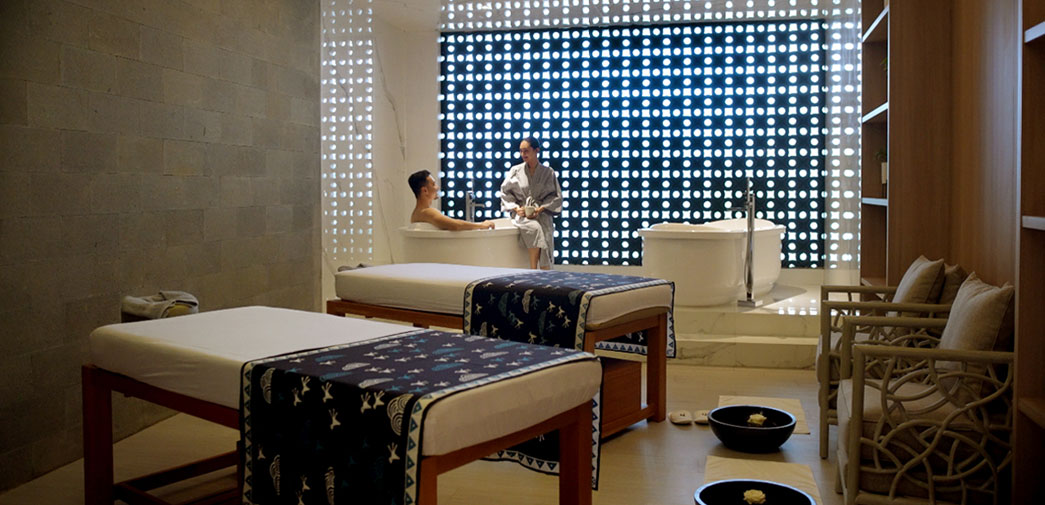 House your esteemed guest in suites and private villas
A wedding is mostly about you and your significant other, but if you're planning to host a group of guests for your special day, it's best to have them close to you. With136 rooms, 9 private villas, and complete amenities, your guests will be guaranteed a restful sleep and a good time, all ready to rock and roll at your nuptials.
If you're looking for a breathtaking beach wedding location close to Jakarta, look no further than Novus Jiva in Anyer. Our complete wedding amenities and suites make it easy for guests to enjoy the natural beauty of the Western Java coastline. Plus, our team of experienced wedding planners will take care of every detail so that your big day is perfect. So what are you waiting for?
Talk to our staff today and enquire about the special wedding package to start planning your dream destination wedding!
PREVIOUS ARTICLE
Novus Jiva Curations: Curated Beach Vibes Hits!
Novus Jiva Curations: Curated Beach Vibes Hits!
From chill acoustic tracks to feel-good poppy numbers, we've got you covered with the perfect playlist for your next vacation in Novus Jiva, Anyer. So whether you're packing your bags for a road trip down to the coastline or simply relaxing by the infinity pool, fire up those speakers and get ready to dance!
read more