How To Ace Your MICE Event No Matter The Weather
Are you planning a MICE event and worried about how the weather might affect its success? With all the planning that goes into hosting a successful MICE event, you don't want to leave anything to chance.
Organizing a successful MICE (Meetings, Incentives, Conferences, and Events) is no easy feat! From finding the perfect venue to implementing cost-saving measures that do not affect the quality of your event, it requires an extensive amount of planning.
In this ultimate guide to planning successful MICE events in any condition, we'll cover everything from selecting venues to managing expectations. By following these tips and tricks, you will have no problem creating an incredible experience for every attendee!
Research local weather
Take time to research the local weather conditions of the city or area where your MICE event will take place. This will help you plan accordingly and ensure that you have the necessary supplies and equipment, such as tents, ponchos, and umbrellas, to ensure your event runs smoothly regardless of the weather.
Choose the right venue
Choose a place that can support any type of weather, such as a pavilion or a hotel with indoor and outdoor space. Consider the size and purpose of your event; will you need a large ballroom or a small meeting space? Or are you seeking a location to work or have fun?
Set up contingency plans
Make sure to have a contingency plan in case the weather turns bad. This could include having a backup venue or a makeshift outdoor event tent in place. Don't forget to plan how to move the event indoors without disrupting the flow.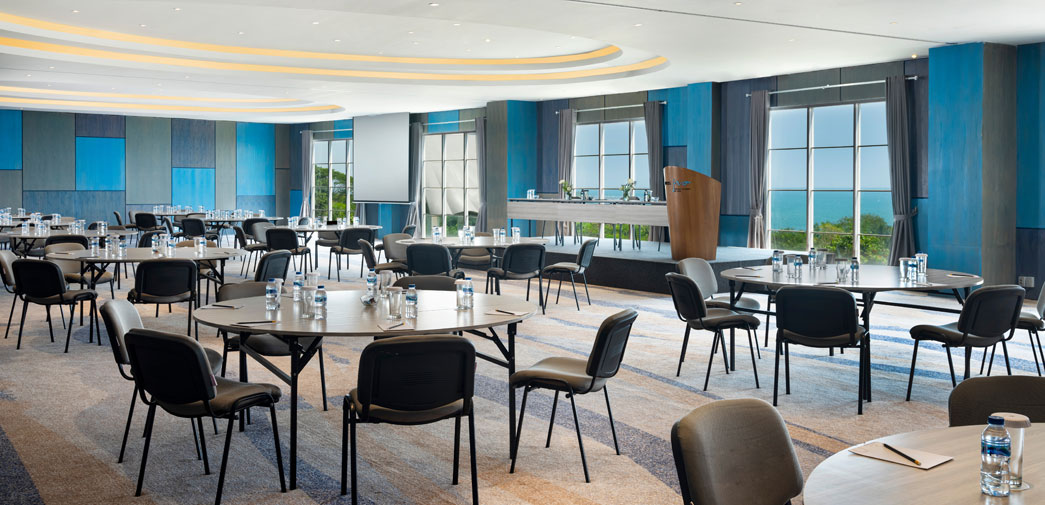 Consider the guests
We can never be sure of the weather in a tropical country. Part of the beauty of being in Indonesia is how the weather can change in an instant. Consider the comfort of your guests, make sure to provide umbrellas, handheld fans, and other items to keep them dry and cool during your event.
Invest in professional services
Consider working with a professional event planner. Many event planners offer such as weather forecasting and contingency planning services to help you make the most of your event no matter the weather. With professionals on hand, you can rest assured that every detail of your event is being taken care of.
Have Fun
Despite the weather, make sure to have fun! If you put in the time and effort, your MICE event will go off without a hitch, and everyone will have a good time.
Congratulations! You've reached the end of our MICE event planning guide and you are now ready to execute a successful event. Ready to take the next step? Contact NOVUS Jiva Anyer today to get started and ensure you have every aspect of your MICE event covered!
Take your pick of the many fantastic options available at Novus Jiva Anyer - the perfect venue for all types of MICE events - and go ahead and launch your dream meetings, incentives, conferences, and events with confidence! With our experienced event team, world-class facilities, and close proximity to Jakarta's exciting attractions, your attendees will surely enjoy successful MICE events and unforgettable memories.
Let's plan some incredible MICE experiences together. Get in touch with our event team today and visit our website to learn more about our amenities.
PREVIOUS ARTICLE
10 Tips to Boost Your Life: Quality Sleep and Achieving Fulfillment
10 Tips to Boost Your Life: Quality Sleep and Achieving Fulfillment
Are you fed up with feeling overwhelmed, too busy, and drained in life? If so, it's time to take control of your day-to-day routine and pursue a healthier lifestyle. With our ten easy hacks, not only will you unlock better sleep habits but, but you'll also achieve greater happiness and peace of mind. We'll provide attainable tips on how to get ahead in life!
read more