The Perfect Romantic Beach Getaway at Novus Jiva
We can't all hop on a plane and escape to our own private beach, especially when flying out of town is not an option. If you find yourself needing to escape the city for a romantic getaway, be it to celebrate a wedding anniversary or babymoon, Novus Jiva Anyer offers plenty of activities and relaxation to help you reconnect with your partner. Located just 2.5 hours away from Jakarta, Novus Jiva is perfect for city dwellers who are looking for a quick getaway.
No phones, no obligations, just you and your significant other, how divine is that? Time to pack your bags and leave your worries behind because we're going to share with you what you can expect here:
Relaxing Couple's Massage at Daiva Spa
Deemed one of the most exquisite spas in all of Anyer, treat yourself and your significant other to a luxurious and rejuvenating couple's spa session where you'll be pampered top to toe. Nothing spells 'I love you' better than a massage session that leaves you feeling good as new.
Romantic Dinner for Two at Serai Restaurant
The best way to a person's heart is through their stomach. And we couldn't agree more with this age-old adage! Enjoy an intimate dinner for two at Serai Restaurant, which overlooks the beautiful Anyer beach. Food is love's universal language and a delicious meal has the magical power to rekindle your passion. Make sure to ask for the monthly specials and you will be in for a delightful gastronomy surprise.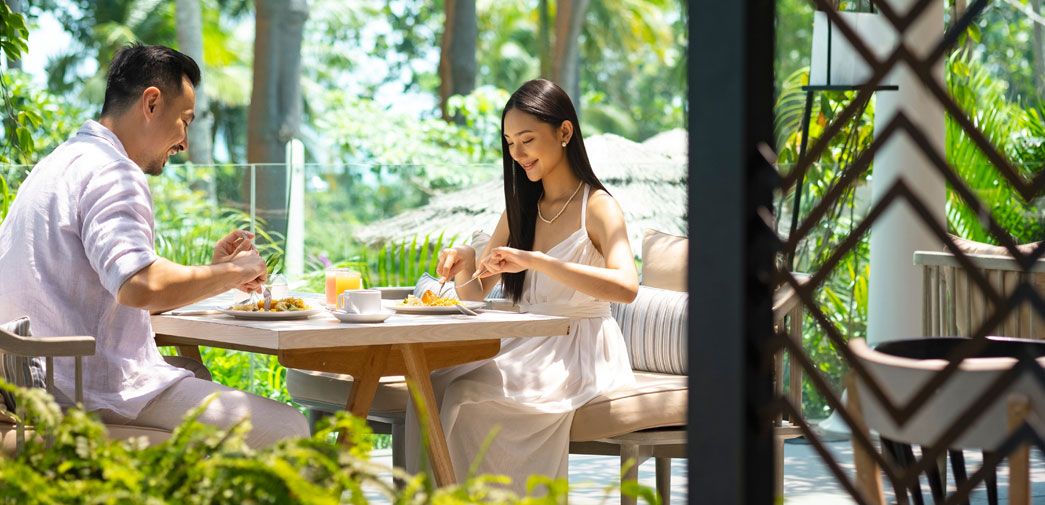 Watch the Sunset at Upper Circle Bar
Forget couple's activities and spend some quality time instead with your beau at Novus Jiva's signature Upper Circle Bar. Revel in the ravishing sunset on a bar that's perched 32 meters above the ocean with a 360-degree view of the Java sea and surrounding mountains. Clink your glasses to your renewed passion for one another as you get buoyed by the sound of crashing waves.
Soak up Vitamin Sun at Barefoot Beach
Turn up the heat literally and soak up all the vitamin D as you take a dip in the lagoon pool. Or you can opt to spend a lazy day with your beau lounging under the parasol enjoying each other's company while sipping on a fresh coconut. Our Barefoot Beach is one of the most popular Instagrammable spots in the whole venue, so don't forget to end the day with a snapshot to immortalize the moments you spend together.
Breakfast in Bed Service
The idea of breakfast in bed is a romantic one for many reasons. You can't do it at home, and even if you did manage to get up early enough, you'd have to spend a lot of time cooking and preparing the meal. That's why it's best to indulge in breakfast in bed when you are holing up in a resort during your break. Experience a decadent breakfast in the comfort of your own rooms. Simply inform our reception or concierge to have it arranged and we'll take care of the rest.
So the next time you're thinking of a romantic escapade that is just far enough away from the city, but still close enough for a quick escape, think Novus Jiva, Anyer. Enquire today about our special rates.
Make your booking here and enjoy a best-rate guarantee when you become a Novus Privilege Member.
*Enjoy the best rate for your rooms, exclusive benefits, and in-house perks when you become a member of Novus Privilege – a loyalty program exclusively made for our esteemed guests.
PREVIOUS ARTICLE
Must-read Novels When You're on a Beach Staycation
Must-read Novels When You're on a Beach Staycation
If you're looking for a fun and relaxing beach read to enjoy during your staycation in Anyer, look no further! We've put together a list of the best books to help you escape the real world and relax by the ocean. So grab your sunscreen and beach towel, and get ready to curl up with a good book!
read more