Discover the Magic of Novus Jiva Resort: The Ideal Family Vacation Spot
School vacations are the ideal time to escape from it all and create new core memories with your family. Novus Jiva Resort & Spa is the perfect location for all that! Our tiny getaway is the ideal spot to unwind and have some fun with your children, accompanied by gorgeous seaside views, exquisite amenities, and exhilarating activities all at your fingertips. Today we'll round up the top 3 reasons why we're just the perfect spot for your family getaway! Let's hit it!
We have a dedicated Kid's Club
At Novus Jiva, we understand that parents need a break too! That's why we've created an exciting Kids' Club with mountains of toys, arts and crafts, and activities to keep your little ones busy. And to make sure your kids are in good hands, we have an on-site sitter stationed at the Kids' Club so you can enjoy a drink at the bar or relax at Daiva Spa without worry. So, parents, you can drop your kids off and whisk them away to get yourself pampered or have a date night at The Upper Circle Bar with complete peace of mind.
Our menu is kid-friendly
Packing up for the whole family can be daunting, but don't let the thought of food for the kids add to your stress! Our kid-friendly menu is sure to please even the pickiest eaters, and with our convenient in-room dining service, the kids can enjoy their meals in the comfort of their room - no matter their mood! Skip the hassle of packing snacks and let our restaurants take care of your little ones' culinary needs!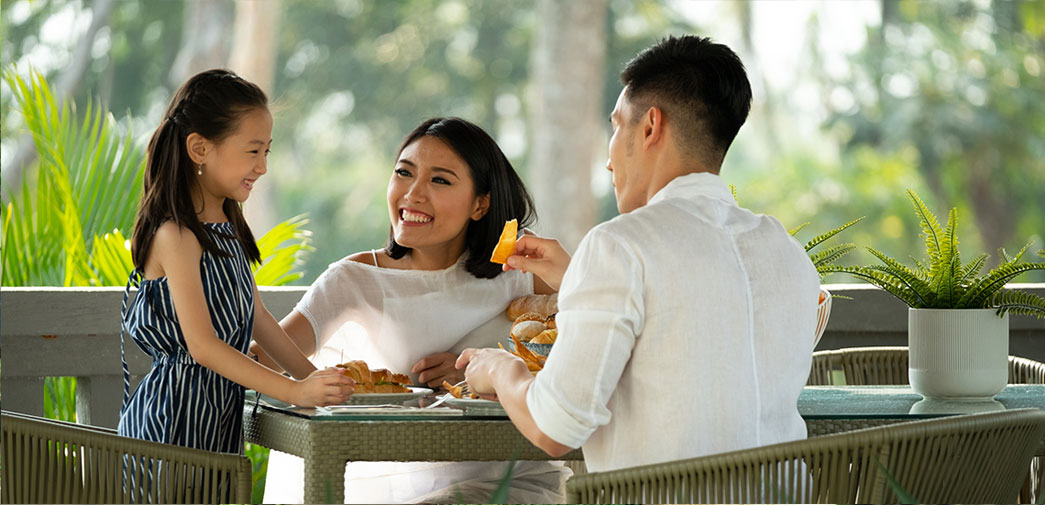 A myriad of activities to keep kids busy
With so many activities to keep kids entertained, our family-friendly resort is the perfect place to make memories that last a lifetime! From our games room to our kiddy infinity pool and our playground, barbecue, and live entertainment, we've got it all. Leave behind the iPads and phones, and get ready to have some fun! Let the little ones splash around in the waves, watch live performances, or enjoy a round of basketball arcade games at the Games Room. Whatever your choice, you can count on us to provide a great time for everyone!
There you have it - three reasons why Novus Jiva Anyer is the perfect choice for your next family getaway. With its combination of adventure, fun activities, and breathtaking scenery, this unique destination truly has something for everyone in the family! So why wait? Book a staycation at Novus Jiva Anyer now and start creating long-lasting memories with those you love! It's time to head off for an adventure together, explore different terrain, and take in the scenery – excitement awaits you around every turn!
Reach out to our team to learn more about our upcoming "School Holiday" bundle and programs. Start planning now to take advantage of the early bird rate.
PREVIOUS ARTICLE
Make Stress a Thing of the Past with These Essential Oils
Make Stress a Thing of the Past with These Essential Oils
Essential oils have been used for centuries for their therapeutic benefits, including their ability to promote relaxation. With so many different essential oils available, choosing the right one for your needs can be overwhelming. In this article, our team at Novus Jiva will share how to pick the right essential oils for aiding in relaxation.
read more