Unveiling Novus Jiva, Your Gateway to a Dreamy MICE Experience
In the world of corporate gatherings, where business meets pleasure and productivity mingles with relaxation, choosing the right venue can make all the difference. And we're here to tell you why our resort, Novus Jiva, is the perfect place to host your next destination MICE event.
Surrounded by lush landscapes, modern facilities, and a team of dedicated professionals, Novus Jiva transforms ordinary gatherings into memorable experiences. Let's delve into what makes Novus Jiva the ultimate choice for hosting corporate events that seamlessly blend work and leisure.
Unparalleled natural beauty
Set against the backdrop of the stunning Java Sea, Novus Jiva is a tropical haven that offers a serene and inspiring atmosphere for your corporate event. Conduct your meetings bathed in natural light, or host thematic influencers gathering in a relaxing outdoor setting. The breathtaking sunsets over the ocean provide the perfect backdrop for cocktail receptions or team-building activities on the beach.
Versatile event spaces
With more than 5 meeting spaces (all with breathtaking views) to choose from, Novus Jiva boasts an array of versatile event spaces that cater to a wide range of corporate gatherings. Whether you're hosting a small executive retreat or a large-scale conference, there's a venue tailored to your specific needs. For more intimate gatherings or breakout sessions, you can opt for any of the well-appointed meeting rooms with panoramic views of the sea. Learn more about our versatile meeting rooms here.
World-class amenities
We are set apart by our commitment to providing a complete and immersive experience for your corporate gathering. Beyond meeting spaces, our resort offers an array of amenities designed to enhance productivity and relaxation. Attendees can unwind at the resort's world-class spa, stay active in the fitness center, or engage in team-building activities such as water sports and beach volleyball. Novus Jiva also boasts a Kids' Club, making it a family-friendly destination for those who wish to bring their loved ones along.
Expert event planning
At Novus Jiva, your corporate gathering is not just another event — it's an experience meticulously crafted to meet your objectives. With our dedicated event planning team working closely with you to customize every aspect of your gathering, from scheduling and logistics to catering and entertainment, you can rest assured that your event is in good hands! Their expertise ensures that your event can run seamlessly, allowing you to focus on the important agenda of your event.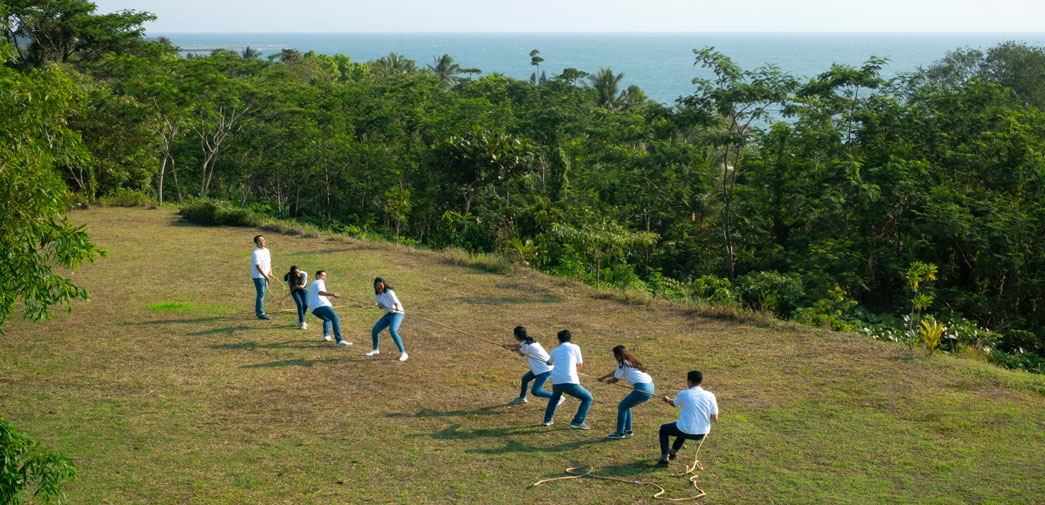 That said, we at Novus Jiva strive to deliver an unparalleled MICE experience by combining business with leisure, productivity with relaxation, and work with play. With close proximity to Jakarta, versatile event spaces, world-class amenities, culinary excellence, and expert event planning, we hope to become the ultimate choice for your next corporate gathering to unprecedented heights.
If you're seeking to create lasting impressions and foster meaningful connections in the world of corporate events, we await your visit with open arms. Get in touch with our event liaison to get started today.
PREVIOUS ARTICLE
The Lifelong Impact of Why Quality Time with Kids Matters
The Lifelong Impact of Why Quality Time with Kids Matters
In the hustle and bustle of today's fast-paced world, parents often find themselves juggling a myriad of responsibilities. Between work commitments, household chores, and personal obligations, it's easy to get caught up in the whirlwind of daily life. But amidst this chaos, there's one aspect that should never be compromised – spending quality time with your little ones. Here, we'll explore the profound benefits of these precious moments and why you shouldn't wait any longer.
read more