Tips on Preventing Sunburn While You're Out In The Sun
When planning a vacation, one needs to consider the weather at their destination. If you are going for a beach holiday, the one thing that can ruin your trip is getting a sunburn. At Novus Jiva, Anyer being a beach resort means we are well-versed on how to avoid sunburn. Beaches are a hotspot for sunburn especially if you spend a long time under intense sunlight without protection. The last thing you need is a nasty sunburn that'll ruin your vacation.
Today we're going to share some tips to avoid sunburn so you can enjoy your beach vacation to the max.
Stay out of the sun at certain times
While it can be tempting to lounge by the beach to enjoy the warmth of the sun while listening to the soothing sound of the waves, it's best if you can avoid being exposed from 10 am to 4 pm. Sunburn can develop after just 15 minutes of sun exposure. It might seem harmless to sneak in time to soak up the sun, but you might regret it later. The effect of sunburn takes around 3 to 5 hours to appear and the pain is not something one would enjoy. So consider yourself warned.
Slather on sunscreen
Wearing sunscreen is a must, even if you're staying in the shade. This is as the rays can bounce off the sand or water onto your skin. Apply sunscreen with an SPF of 15 or higher and do not forget highly exposed areas such as your ears, toes, or lips. Prolonged exposure may cause wrinkles, heatstroke, long-term skin damage, and more, and you'll want to avoid that!
Visit and purchase any essentials at our in-house store in Novus Jiva, Anyer, if you forget to pack sunscreen on your trip.
Cover up with the right gear
Going to the beach and covering up may sound counterintuitive, but we don't mean covering yourself up with a Hazmat suit! Packing hats, polarized sunglasses, umbrellas, and anti-UV shirts can go a long way to help minimize the damage of sun rays, especially if you're planning to frolic on the sand or take part in water sports.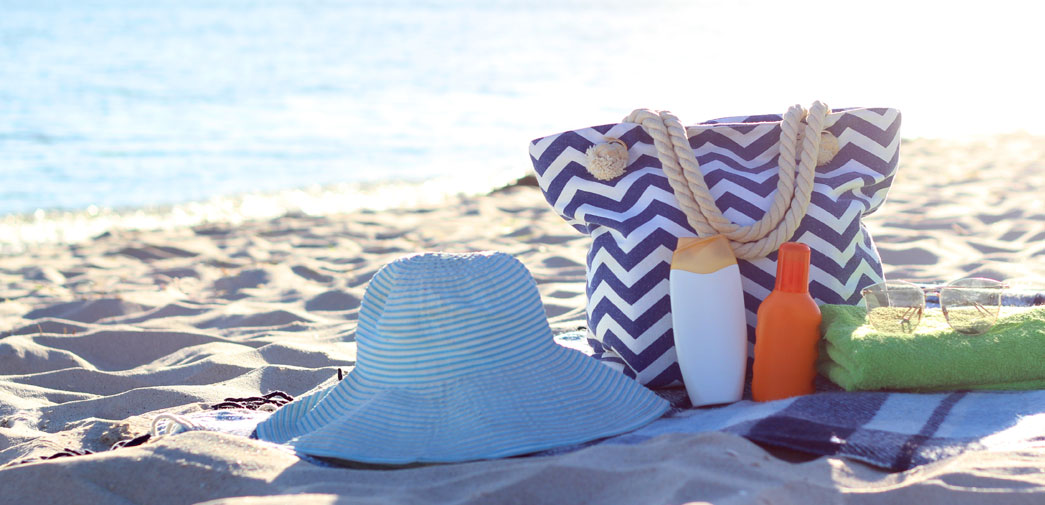 Take it easy
A beach vacation does not mean you need to be out all day, especially if you're holed up in a resort that offers plenty of amenities. At Novus Jiva, you can get a top-to-toe massage treatment that will leave you wanting more. You'll also be able to indulge in a decadent feast of Nusantara dishes at the famed Serai Restaurant. Once peak sun hours are up, you can return to the beach or park yourself at the Upper Circle Bar with a refreshing mocktail to catch Anyer's beautiful sunset.
Seek shade
If you're truly an outdoorsy person and can't do without being outside on the beach, you have the option of being mindful and staying in the shade. Take advantage of the amenities if you're in an all-inclusive resort!We provide parasols on our Barefoot Beach, so our guests can stay comfortable when they're on the beach. Take cover and enjoy a good book, let your children build a sandcastle under the cover of our big parasols. That way, everyone can have fun without risking their skin to extreme sun exposure.
Make sure to keep these tips in mind to avoid a sunburn⁠—whether you're spending your beach vacation in a resort or simply hitting a public beach close to you. As always, if you have any questions or need help booking a room at our resort, please don't hesitate to reach out to us. We can't wait to welcome you here at Novus Jiva and help you enjoy your time in the sun!
PREVIOUS ARTICLE
Why Novus Jiva is The Ideal Hotel For Your Next Corporate Getaway
Why Novus Jiva is The Ideal Hotel For Your Next Corporate Getaway
If you're looking for a unique and fun corporate getaway experience, look no further than Novus Jiva. Our hotel offers everything you need to relax and unwind after a long year of work. Plus, our on-site amenities are perfect for team-building exercises. Contact us today to learn more about our corporate packages!
read more